Penn Press Journals related to APSA
Penn Press publishes 22 journals on a wide range of subjects, and here we have highlighted some of our journals that we think will be most of interest to scholars attending APSA 2023. You can get subscriptions to each of these journals at up to 25% off the print rate when you enter the discount codes below after clicking the "Subscribe/Renew" link on each journal's homepage and registering.
For more information about Penn Press's Journals program, please contact:
Jocelyn Dawson, Director of Journals
[email protected]
For subscription questions email [email protected].
Capitalism: A Journal of History and Economics
Capitalism: A Journal of History and Economics offers a trans-disciplinary forum for the examination of the history of economic phenomena broadly conceived. It features original and peer-reviewed contributions by authors from across the humanities and social sciences on the historical dimensions of markets, capitalism, political economy, and economic thought.
Use discount code CAP22 for 25% off a print subscription of Capitalism!
More Info
Dissent
Dissent is a quarterly publication of politics and culture that ranks among the handful of political journals read most regularly by U.S. intellectuals. A magazine of the left, Dissent is also a magazine of independent minds welcoming the clash of strong opinions. Each issue features reflective articles about politics in the U.S., incisive social and cultural commentary, plus the most sophisticated coverage of European politics to be found anywhere outside of Europe.
See the Dissent website for more information and subscription rates.
More Info
Journal of the History of Ideas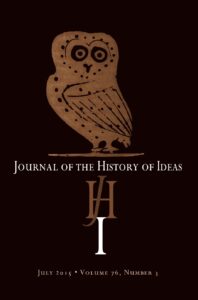 Since its inception in 1940, the Journal of the History of Ideas has served as a medium for the publication of research in intellectual history that is of common interest to scholars and students in a wide range of fields. It is committed to encouraging diversity in regional coverage, chronological range, and methodological approaches. JHI defines intellectual history expansively and ecumenically, including the histories of philosophy, of literature and the arts, of the natural and social sciences, of religion, and of political thought. It also encourages scholarship at the intersections of cultural and intellectual history — for example, the history of the book and of visual culture.
Use discount code JHI22 for 25% off a print subscription of the Journal of the History of Ideas!
More Info